So, I have a confession to make. I've never made a cat birthday cake before. I feel pretty bad about it now, because I've made them for my dog, but it never really occurred to me that Zoe and Alex might like one, too! Bad cat mama, I know. I'll make it up to them this year, though! I'm already hunting down fun ideas, and their birthdays aren't until much later in the year.
Check out some of my favorites below, divided into actual cakes to make and cute ones that you can just buy (including a few that aren't actually food, in case your cat is on a strict diet).
Cute Cat Birthday Cake Recipes to Make
YouTube has a bunch of cute cat cake recipe tutorials! I also found a few really fun and easy ideas on Pinterest. Check them out!
1. How to Throw a Cat Birthday Party (with Cake recipe)
This one is super cute because it's not just a recipe, but a whole guide on throwing a fun birthday party for your kitty.
2. Birthday Cake Made from Cat Food
I like this one because you can use your cat's regular food, which is perfect if Miss Kitty Fantastico is on a special diet or is SUPER picky (my Zoe is a total food snob).
3. Cat Friendly Birthday Cake Recipe
4. Another cute cat food cake from Lucky Ferals
5. Trying a new Cat Food Birthday Cake Recipe for Cats!
6. Cat Birthday Cake Recipe from Living Locurto
https://www.pinterest.com/pin/17732992273977403/
I've followed Living Locurto ever since I came across her site in a blogging group that I belonged to years ago. Amy makes some of the best recipes for humans, so I'm betting my kitties will love her cat cake recipe. Check it out here.
7. Another no-bake cat cake recipe (with a cake pops option)
https://www.pinterest.com/pin/17732992273987540/
This one is similar to others above using cat food, but you can also turn it into a super cute cake pop! It also doubles as a dog cake. You just need to swap out the food that you use. Check out the recipe here.
5 Cat Birthday Cakes That You Can Buy Online
As far as actual cakes to buy online, I really only found a couple of options on Etsy. The rest are cake-shaped toys for cats. You could try talking to a local pet treat baker and see if they can whip something up for you if you're not confident in your own baking skills. We have a few in my area that specialize mostly in dog treats, but they can make cat treats when asked.
One little note: this part of the post includes affiliate links. If you buy anything through them, I get a small commission at no extra cost to you. Thanks a bunch!
1. Personalized Kitty cat crown Happy Birthday Cake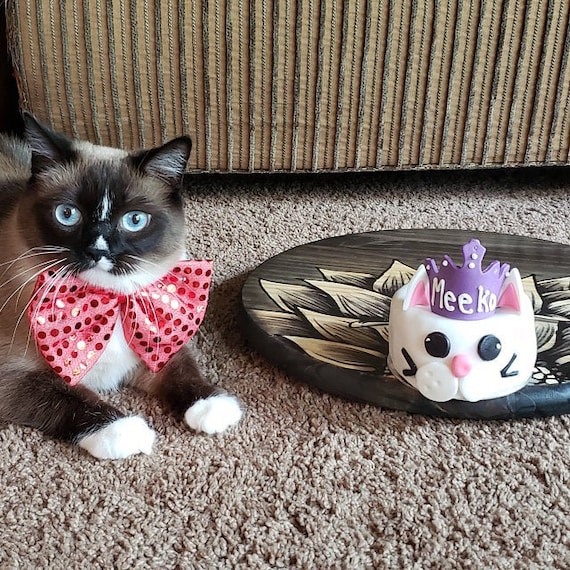 This adorableness from Meatloaf's Kitchen is one of the few edible cat cakes I found on Etsy. Honestly, it's so cute that you really don't need to look any farther. I was even more thrilled to learn that the seller is super local to me. They're from Canadensis, just miles from where I grew up and less than 20 minutes away now.
If you're not crazy about this particular cake, they do have other options (more than 20 of them, actually), along with different cat and dog treats. The prices are super fair, even after shipping. Definitely check it out!
2. Happy Gotcha day MINI Cake Cakes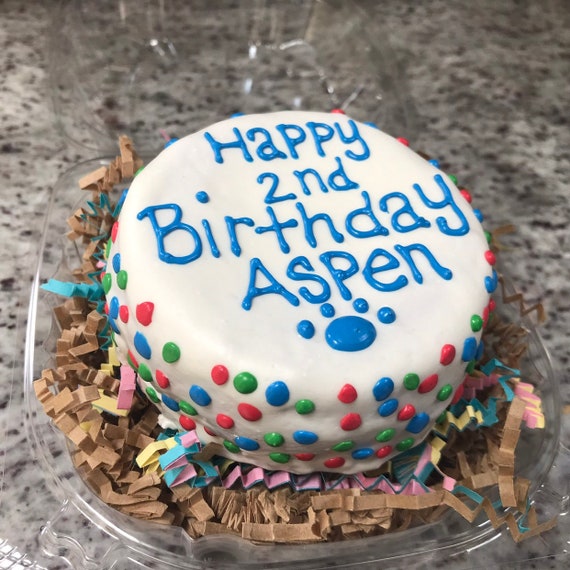 The only other edible cat cakes I found on Etsy come from GourmetBones, out of New Jersey. I love that it's totally grain-free, and you can choose from either catnip or cheddar for your icing.
Customize everything else, too, from the primary color to the text to the icing color. You can also let them know when you plan on serving the cake and they'll try to plan shipping around that. They also have a ton of other great homemade cat and dog treats available in their shop.
3.
Kittybelles Mewow Cake
This one from Amazon isn't edible, but it's a super cute idea, especially if you can't give your cat treats (I had a diabetic kitty years ago and we had to be really strict with her diet, so I get it). It's stuffed full of irresistible catnip and makes a fun crinkly sound when your kitty plays with it.
I do think it's a bit on the large side for a cat, though. My dog would definitely mistake it for one of her toys and destroy it, unfortunately. But it's inexpensive enough to buy for some cute kitty Gotcha Day or birthday photos for Instagram, right?
4. Birthday Cake Catnip Toy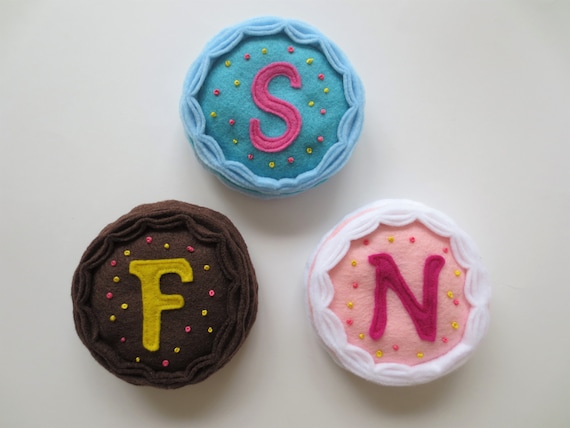 As cute as the Kittybellies toy is, I couldn't find any information about where it was made, and believe me, I looked. So, if you prefer to actually know the origin of your pet's toys or just prefer supporting small businesses, these cake catnip toys from FelineFun are perfect.
They're made in Canada with felt that's made in the US, and they're stitched together rather than glued. So they're safe and eco-friendly (although you should still supervise playtime). Note that the listing is for just one cake, not all three. You choose the color and the initial, though.
There you go! Whether you're planning a whole big celebration for your cat's birthday or just want a cute little surprise, these darling cakes are perfect. My personal favorite is definitely the one from Meatloaf's Kitchen!